Mark Frederiksen
Mark Frederiksen was born with little fanfare in 1970 in Dallas. He graduated from Lake Highlands High School in 1988 and the University of Texas at Austin in 1992. After holding a few "real" jobs, he joined the family agency in 1996. He holds several industry designations and is active in both the Dallas and Texas independent agent associations. He is thankful to be married and blessed with two awesome kids who fortunately look more like their mother than Mark.
Jan Frederiksen
Jan Erik Frederiksen was born in 1941 in Dallas, the oldest son of Ray and Sara Frederiksen. He graduated from Bryan Adams High School in 1960, attended the University of Texas and joined the U.S. Naval Reserve. Jan Erik joined the family agency in 1966, which was renamed to Frederiksen & Frederiksen in 1979. Like Ray, he was very active both within the insurance industry and the Dallas non-profit community. Jan passed away in 2004 after a long and valiant battle with cancer.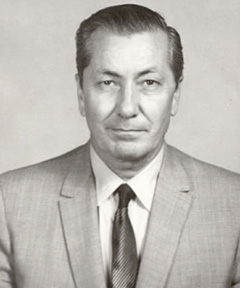 Ray Frederiksen
Raymond Frederiksen was born in 1915 in Morgan, Minnesota. His payroll auditor job with Hardware Mutual brought him to Dallas in 1938. After serving with the Flying Tigers in the Army Air Force during World War II, Ray returned to Dallas and founded the Ray Frederiksen Insurance Service in 1949. Soon after, his wife Sara joined him at the agency. After a distinguished and lengthy career in the independent insurance industry and untold hours of community service (and golf), Ray passed away in 2002.
1960's Frederiksen & Frederiksen brochure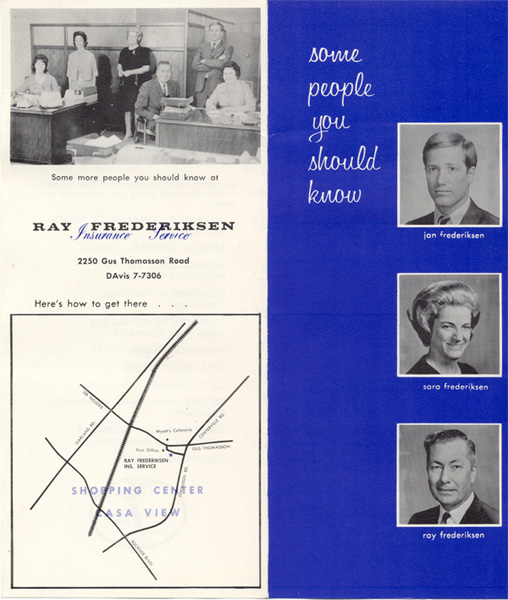 Meet with us
12900 Preston Road
Suite 500
Dallas, TX 75230